A selection of MUJI's most popular products by sales amount and from customer reviews on our online store in 2021.
There was a clear emphasis on comfortable, casual clothing in the past year.
This style of comfy, light pajamas are great for people that tend to overheat while sleeping. The fabric is breathable to allow vapour to escape and the side stitching is seamless, so you won't have skin irritation on your sides. There is a button up front, a pocket and the neckline has a stand collar cut. Keep an eye out for them next season, the popular colours sell out fast!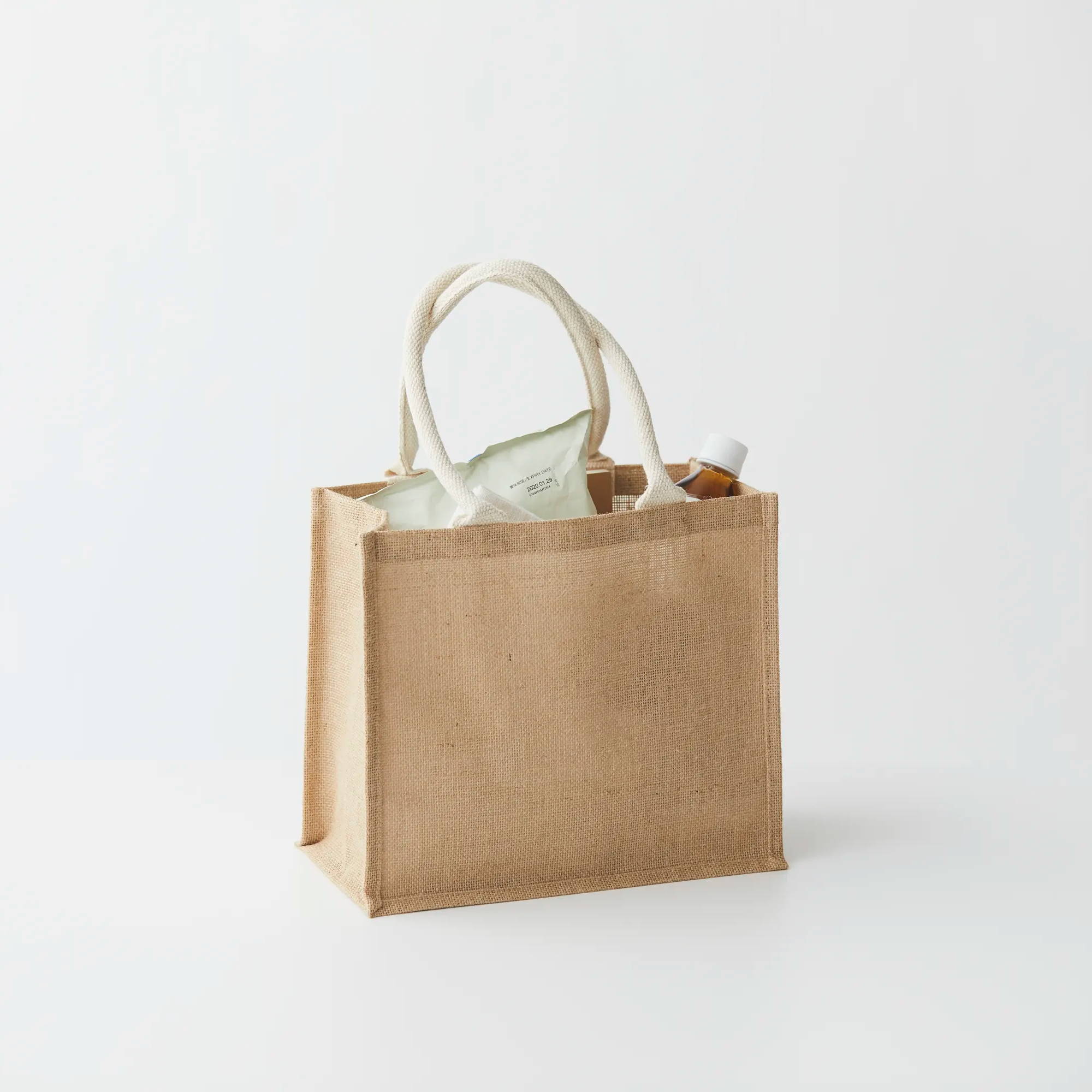 A very durable bag with a cushiony and long handle. The woven jute material absorbs water but dries quickly and is resistant to abrasion. It's great for everyday use to carry groceries, books or other items with you.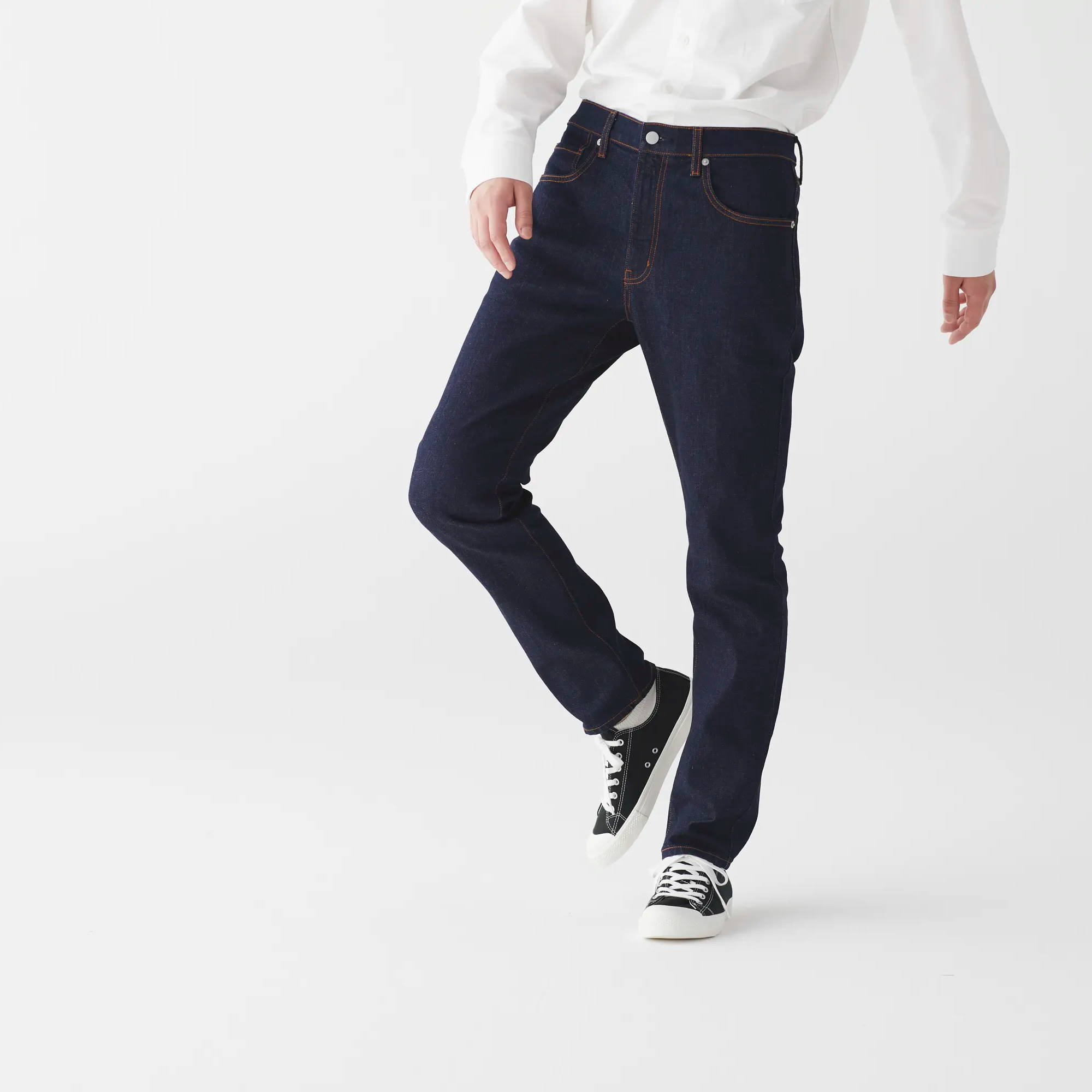 MUJI's denim is made to be comfortable and stretchy, not stiff. We offer several different cuts to suit your preference, Skinny, Slim, Straight, Tapered and Wide. They stretch in all directions, giving you space where you need it and have a sixth pocket for your phone.
A classic, clean looking lace-up sneaker to pair with your casual outfit. They have a water repellent coating to help protect from spills. There is a uniquely designed cushioned insole to provide you with extra support too.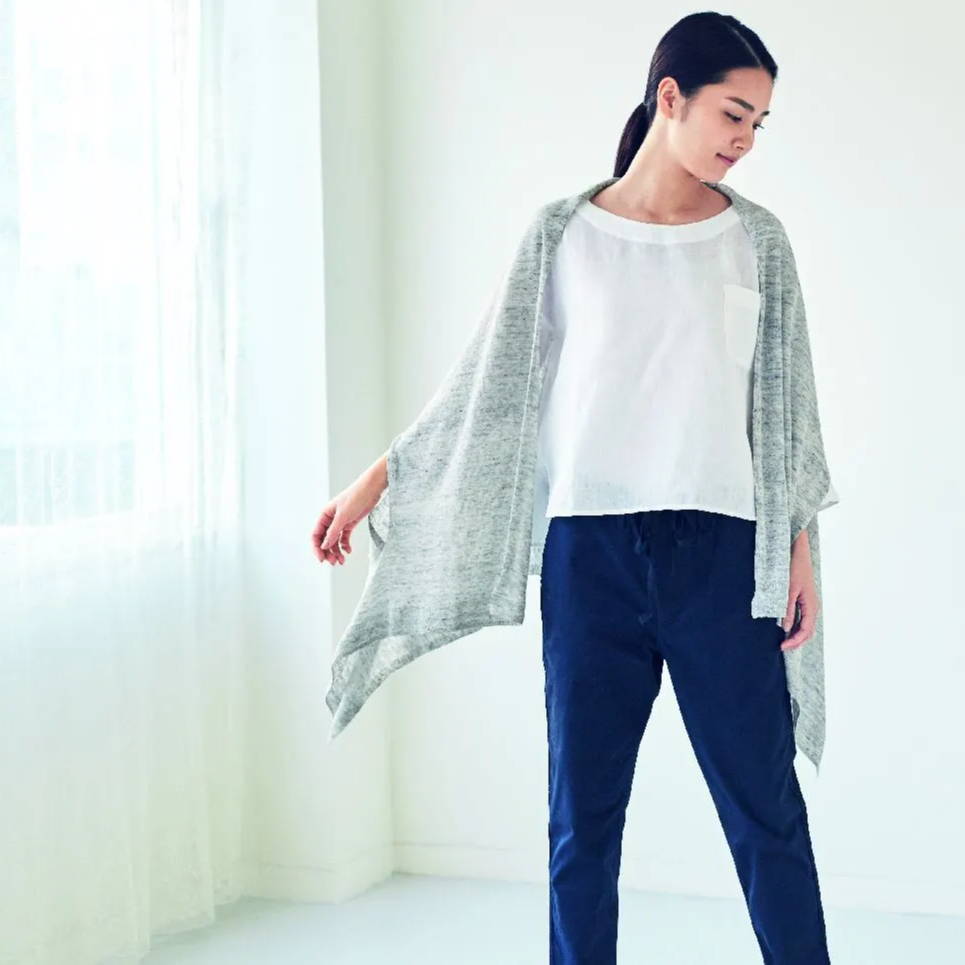 Ideal for summer weather, MUJI's French Linen garments can keep you cooler by blocking the sun's rays and having a light, breathable feel. With their relaxed fit, our Linen Shirts, Shorts and Dresses are ideal for casual settings. If you need something a bit dressier, opt for a Linen Cardigan or Blazer!

Coming Soon in Spring 2022!
A few staples for everyday living, along with our very popular Body Fit Cushion that sells out every time it goes on promotion.
MUJI's cleaning system is a set of simply designed tools that can be left in a conspicuous location but won't stand out and detract from the décor. There are 3 different materials for the handle (wood, aluminum or polypropylene) that can be used interchangibly with the floor mop, broom, carpet cleaner, squeegee and hand mop attachments for ease of use. There are other smaller cleaning tools for specific functions such as a tile grout cleaner, desk broom set or shoe dusting brush. The aim is to make cleaning less stressful with a function forward system and a crisp look.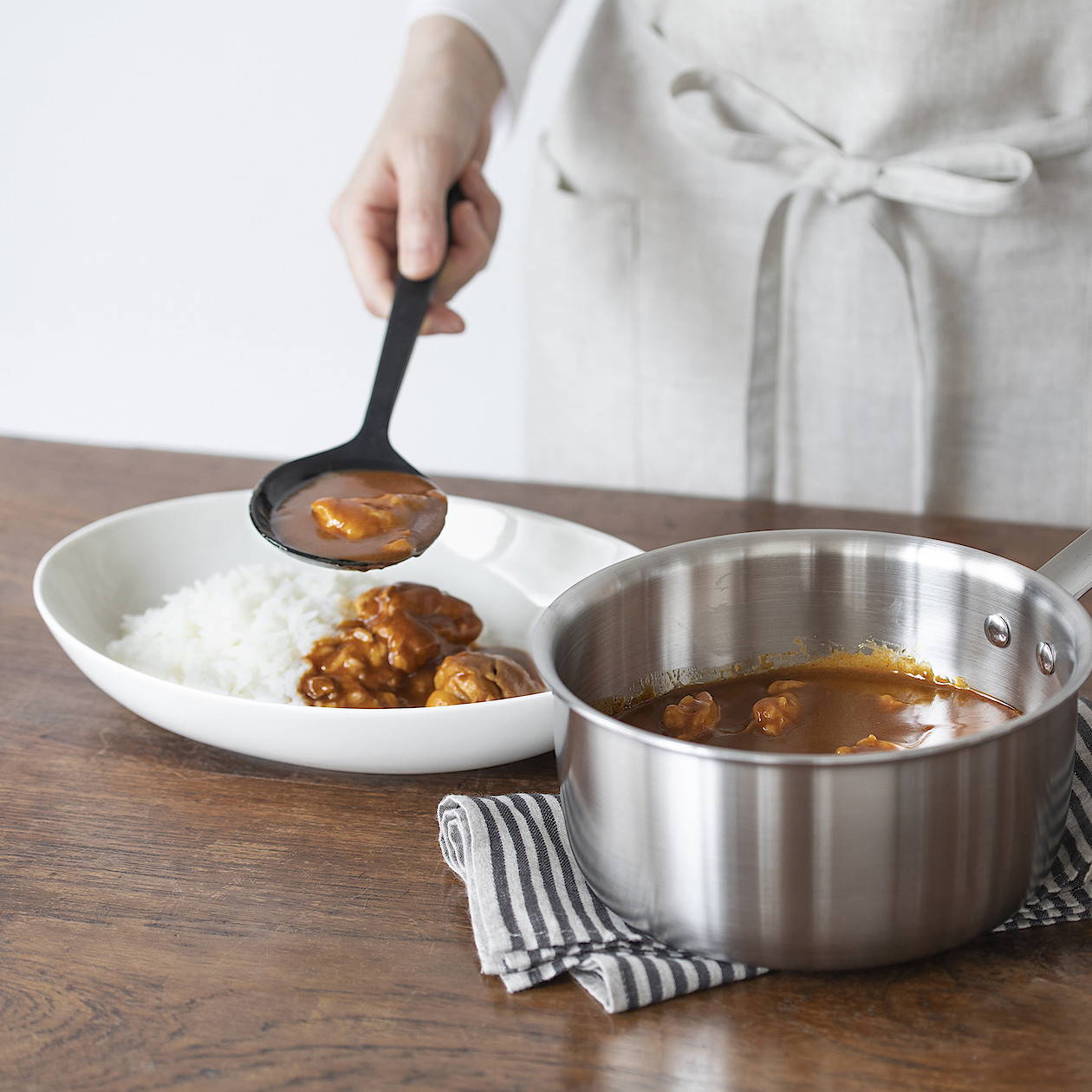 A must-have utensil for cooking, this spoon is pliable at the edges with a strong steel core, allowing you to get every last bit of food. It's non-stick, has high heat resistance and won't scratch your pots & pans.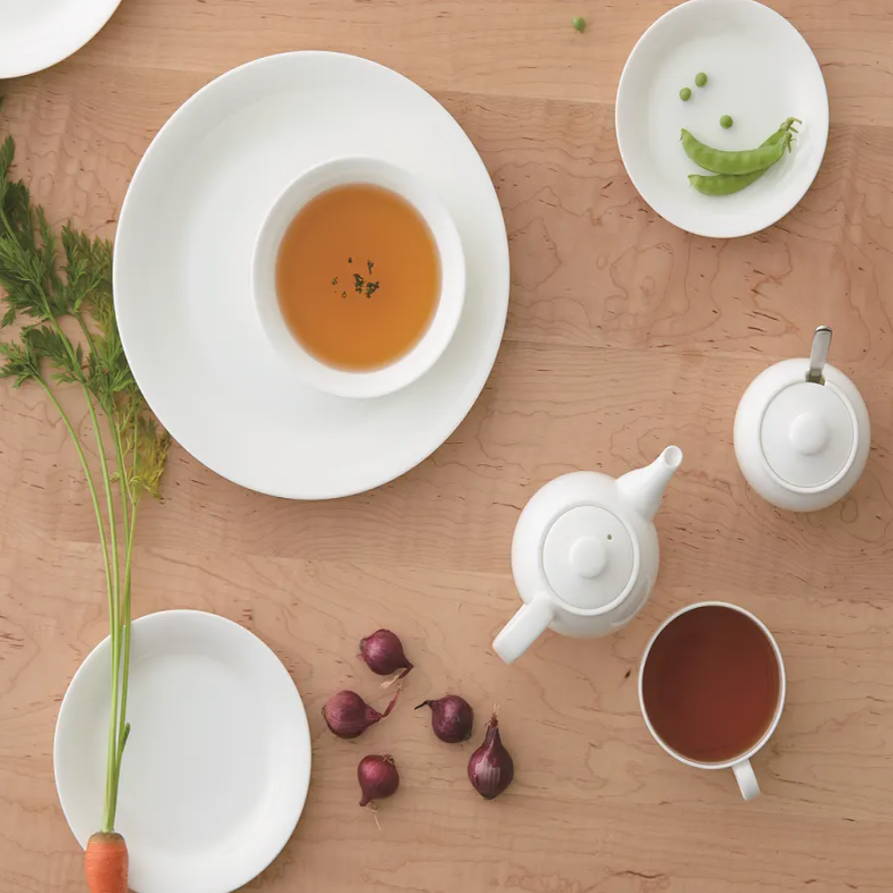 Our white porcelains are made using high quality pottery stone from the Amakusa region of Japan. Starting in the mid 1600's, techniques and production methods have developed over the years until now. Today there are 11 kilns that continue to produce pottery and porcelain in the region. They aren't painted so you can enjoy the natural bluish-white look of it.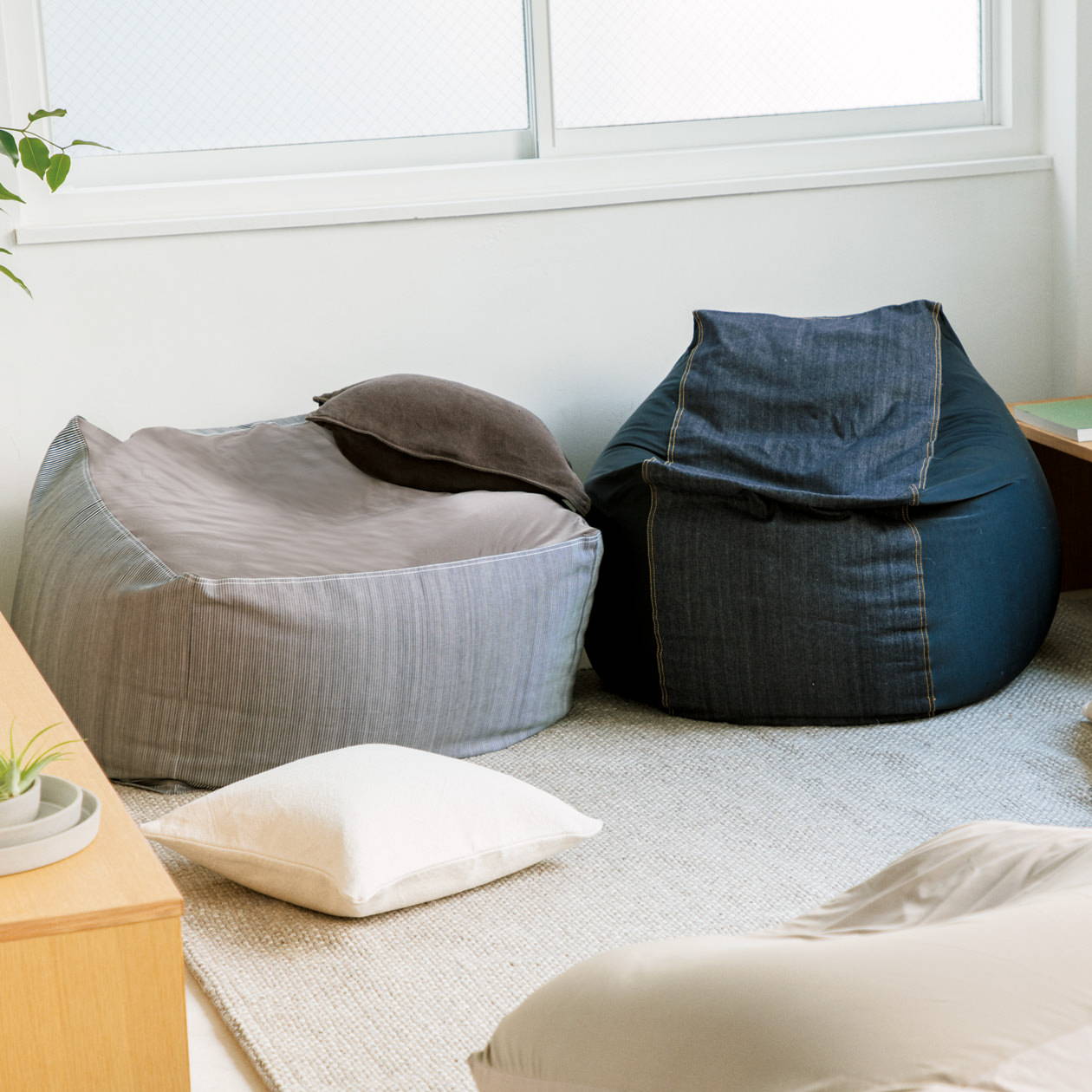 MUJI's Body Fit Cushions, or Bead Sofas have gained a lot of popularity over the years. They are the ultimate vessel to lie back and relax in. The polyester side is stretchy so you can sink in while the canvas or denim side gives you more support when you need it. The covers are washable and come in several colours that blend in with many decors.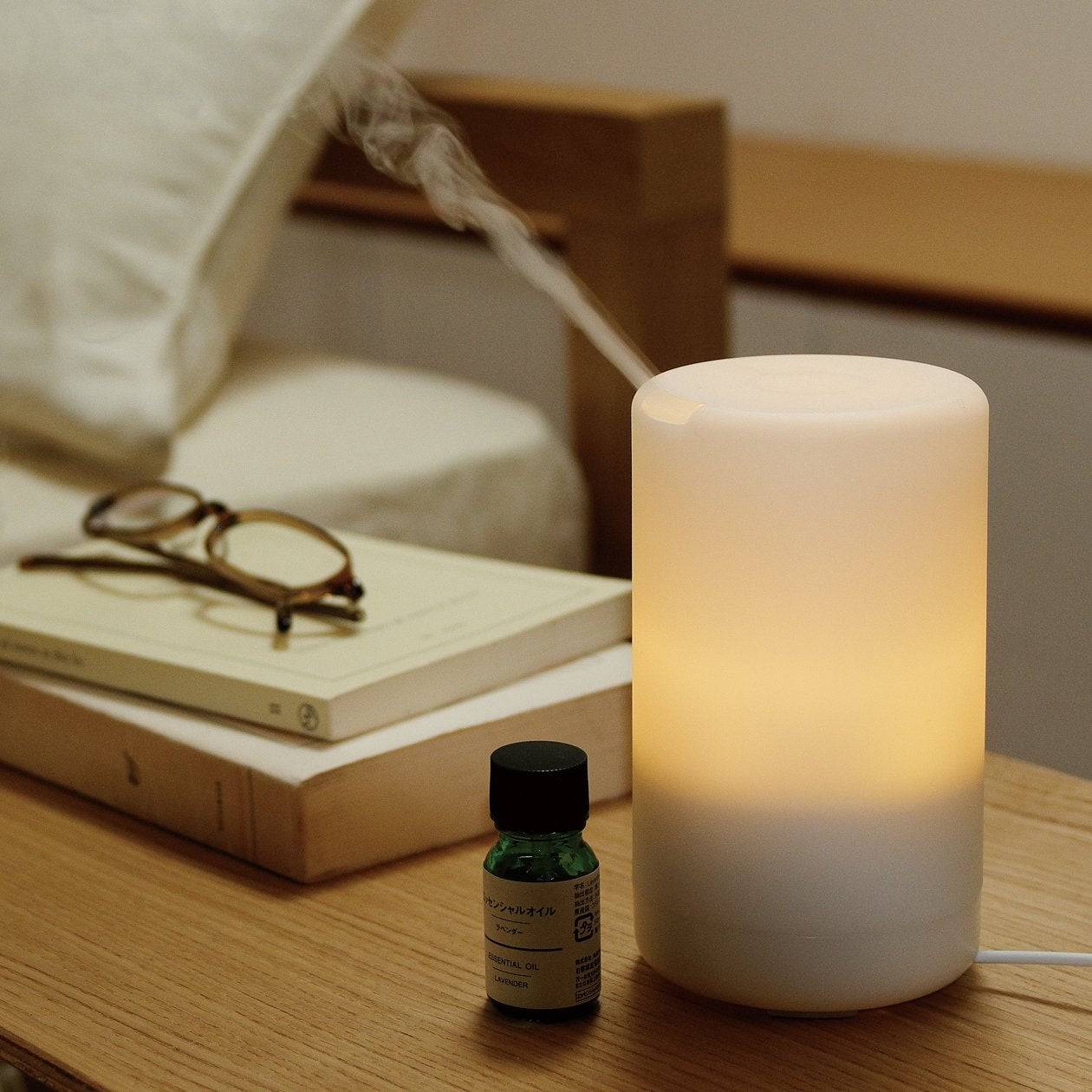 Adding that extra element to your living space, our diffusers disperse aromas throughout. Use the small diffuser in your bedroom, bathroom or office space for the best effect. Our selection of aroma oils can help you with focusing on work, relaxing after a busy day or just to provide a pleasant scent to your home.
As many of us continue to study or work from home, there are a few MUJI products that make it easier and more enjoyable.
Finding ways to make better use of your space at home becomes a greater priority as we spend more time in it. MUJI's File Boxes can be used to store a variety of household items; useful in the kitchen for snacks or cooking utensils, the bathroom for cleaning supplies or for documents on your work desk. They have standardized sizing, are stackable and have a hole to easily pull it out from a higher shelf. What other uses would they be good for in your life?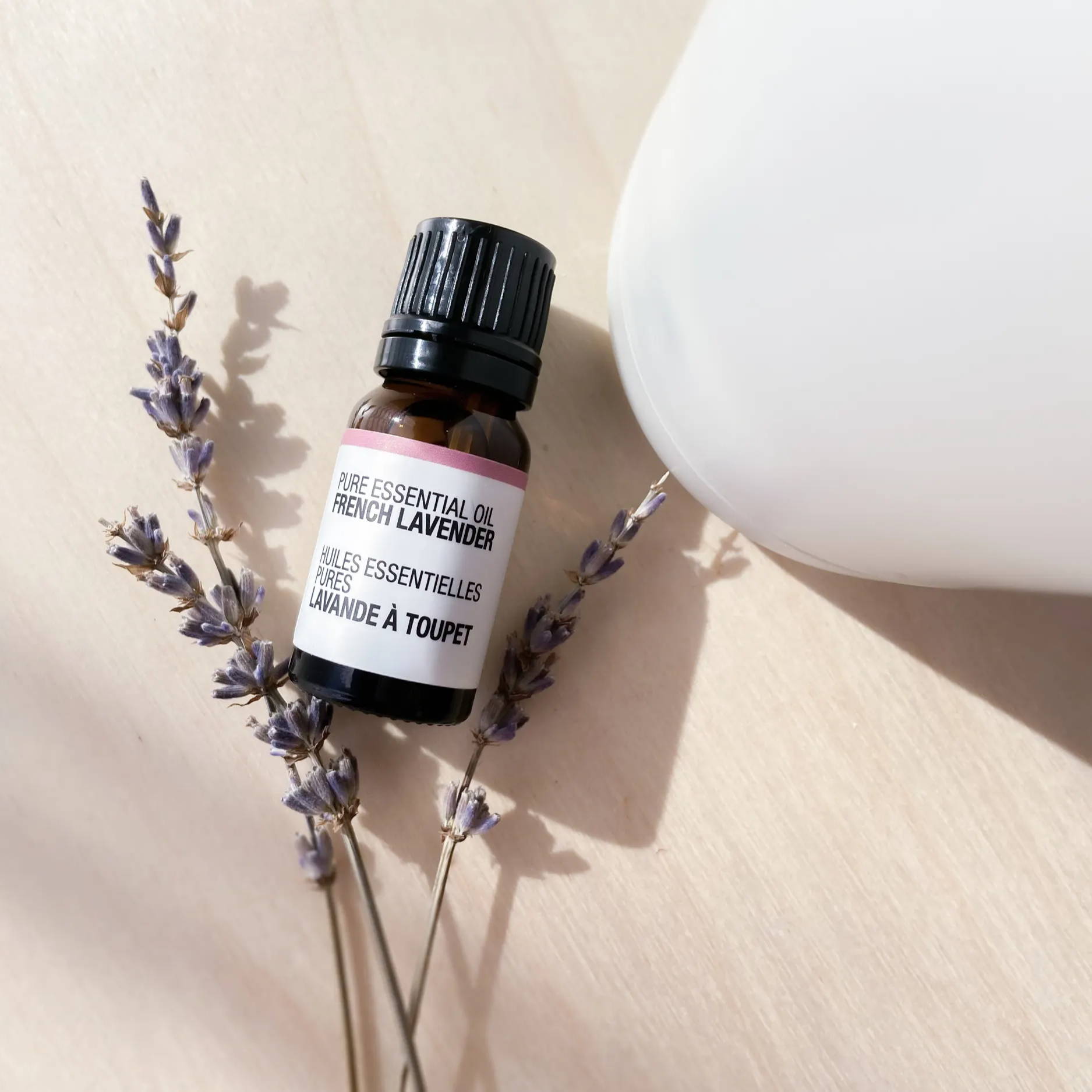 A variety of aromatic oils that can help with different aspects of your life, or just as pleasant scents to enjoy. If you need help concentrating and to ease anxiety, try citrus oils like Sweet Orange or Grapefruit. When you want to wind down and relax after a busy day try floral oils like French Lavender or Geranium. We have a new selection of oils available now, check them out!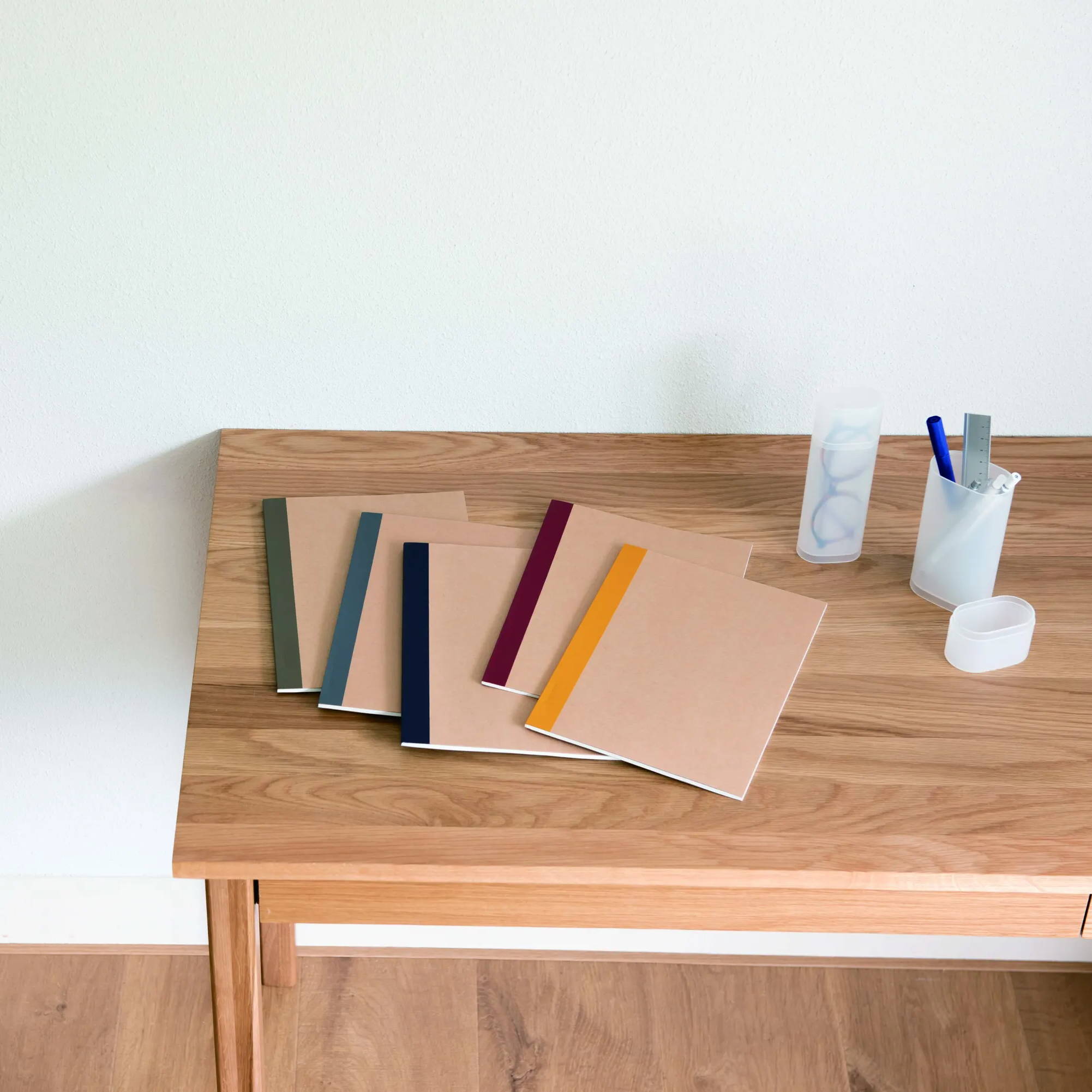 A pack of five simple, lined paper notebooks with different coloured spines to tell them apart. They each have 30 pages that are resistant to pen or highlighter bleed through. They're ideal for keeping notes for small projects, workshops and tutorials or even keeping lists of things you want to cook and life aspirations.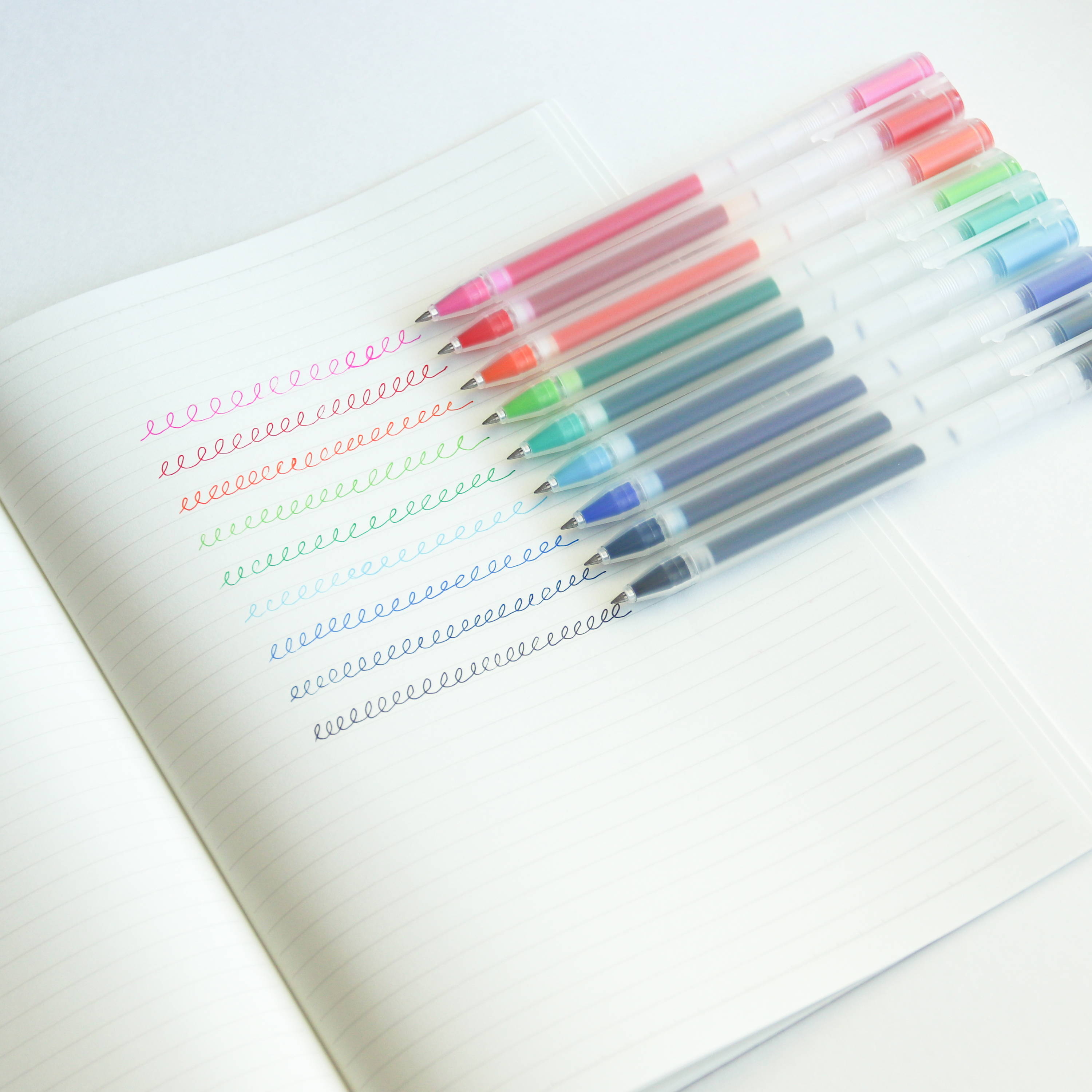 Our ever popular MUJI Gel Ink Pens. Available in a variety of vivid colours to help organize your thoughts and activities when recording them in a planner or journal. The pen has a water-based ink that flows very smoothly to reduce line breaks.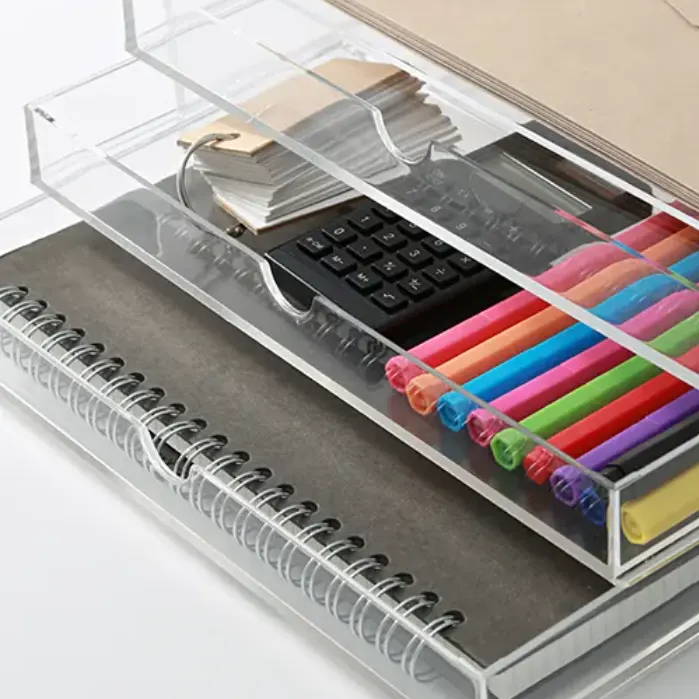 A storage solution for small items made of transparent acrylic. It is great to use in the bedroom to hold jewellery and watches. It's also perfect for your office or desk space to hold stationery supplies.